When I was 17, I cut my teeth in the sales field by cold calling small businesses in Northern Virginia – always ignoring that absurd "no soliciting" sign. My products were those logo-imprinted goods categorized as "promotional products." That, they were, but there was more to these branded items than the name implied – and the other name, "advertising specialties," did the same disservice to their value, undermining the product category even further by labeling them "special" – they could've just as well been termed niceties, sundries, or what-nots. I'm not even sure how you'd name the category – but business people simply didn't know what they were by name.
This is something I recognized, not by being rejected call after call, but by a pragmatic accountant who instead of hanging up questioned: "exactly what are you selling, kid?"
"Products like pens, calendars, and caps that feature your business name and promotional message," I replied.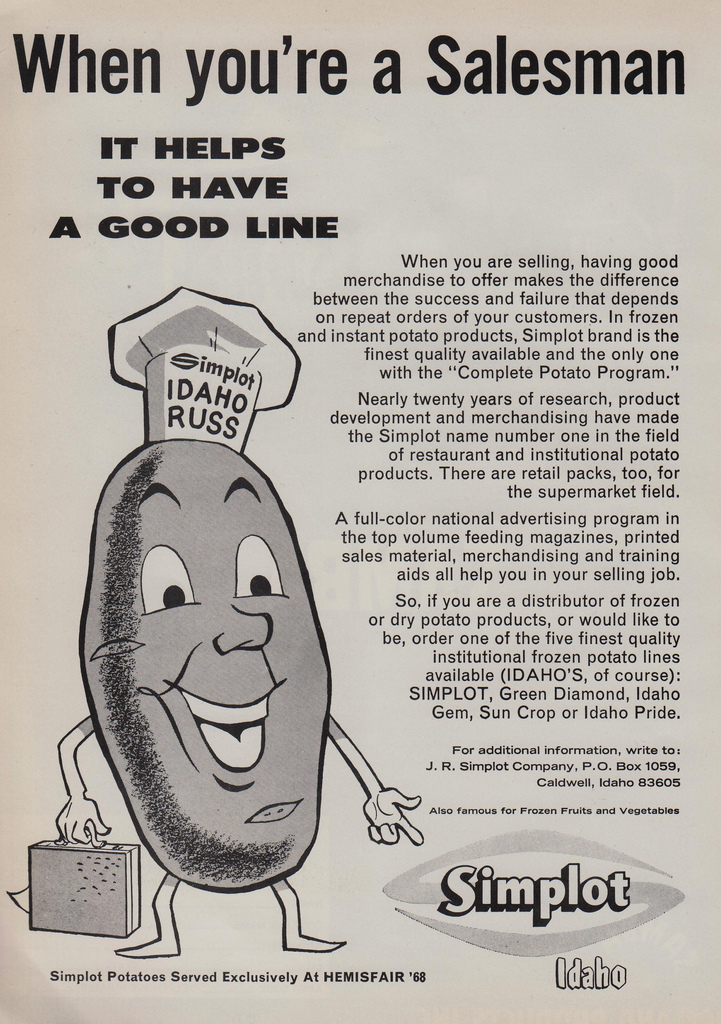 My well-intentioned father, who started this family business to augment our bread and butter print brokerage, literally spelled out 12 such example products on his business card, because this damn category didn't have a strong brand that could stand on its own! The accountant who threw me that lifeline ended up telling me he wasn't interested, and inquired where I got his number. I acknowledged him as a prestigious member of our local business community (I was actually just starting with the A's in the Yellow Pages) and thanked him for his time.
At this point I became a member of the business community and left the cheesy salesman club. My conversion rate shot up, and I realized that those "no soliciting" signs were meant to deter hopeless, real-world spammers. My evolved pitch was simple, direct, and focused on the benefit, not the product: "we help [insert service category] businesses in Arlington to retain clients for several years and receive, on average, three more referrals from each client. Can I mail you our brochure?" If the conversation didn't result in an appointment, I'd drop off the brochure in person and that would often result in an impromptu meeting – or I'd put the brochure in the mail and follow up religiously.
Once I found myself spending more of my time in meetings, rather than being rejected at the gate, I learned one of the most important lessons of my professional career – what i simply term: "trust first." People consider many factors in their decision-making process. A single factor, like cost or function, may have a disproportionate influence, but we all seek an optimal total value. Thus, is the importance of building a relationship where trust can be earned to increase perceived value.
As a young, promotional product salesman, I learned to lead in with a low cost, yet highly valuable product that opened the door to a long term relationship – allowing time and proof needed to build trust, and paving the path to expanding the relationship.
Today, driving marketing operations for a global training company, our pitch is to lead in with confidence-garnering pilot programs that reduce buyer-side risk and encourage strong relationships. Paving the path to larger, mutually valuable engagements. Similarly, throughout my academic public policy research it became strikingly clear that mutual trust was a critical, yet often missing component, necessary for solving tough policy challenges. Good policy must often address the needs of all stakeholders, a unanimous and idealistic venture in a society where opinions can be so dramatically polarized and misinformation blurs the accuracy of facts.
With all this contemporary talk of "customer experience," take pause and understand that there won't be anything at all to experience if you can't get a foot in the door to begin with. To cut through the noise, trust must come first – trust is the key needed to open the proverbial gate.